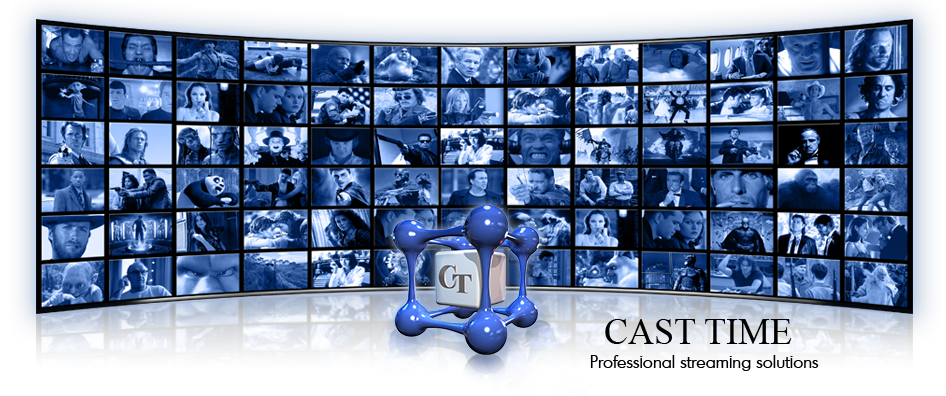 CAST TIME
®

– IP media streaming technology
CAST TIME® specializes in IP streaming media products and Content Distribution Network (CDN) systems. CAST TIME® offers a complete end-to-end solution for delivering High-Quality and High-Definition, LIVE and VOD services over the Internet and IP networks. CAST TIME® offers services at costs that fit the customer's requirements and scale-up process, at a significantly lower cost entrance barrier than any other solutions on the market.
The CAST TIME® media delivery system is currently live, daily used by several leading national television networks and other content providers – to broadcast reliable high definition video to thousands of viewers over the Internet. Our customers experience a significantly higher quality and less image degradation when using the CAST TIME® system and products.
CAST TIME® products are 100% customizable thanks to state-of-the-art core design which facilitates broadcast of High-Quality and High-definition (LIVE and VOD) video content over the Net – with the customers own "twist" . Our OVIDIUS™ & LIVIDIUS™ platform together with our own UK and Middle East content distribution networks (CDN) support streaming to all platforms – to include desktops, iPad, Windows 8 and Android-based tablets, iPhone/iPod and Android-based smartphones, IPTV and STB's.
The company slogan: "Professional Streaming Solutions" defines our main goal. There is an enthusiastic and dynamic team of experienced and certified individuals behind this unique technology. These consist of software developers, database and network experts. We are able to offer top-notch, creative and robust solutions to our customers worldwide. CAST TIME® work diligently to ensure that we constantly embrace and implement the latest technologies available. In addition, we are committed to realizing your ideas and needs – while ensuring that we share a common view of the system design, development process – and desired outcome.